Day late and a penny wiser on this one, to perform ungodly genetic experiments with cliches.
And the reasons? There are no reasons. Who needs reasons when ... oh right. I have a reason.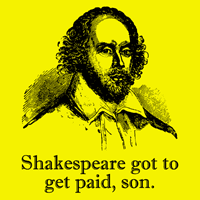 Yeah, I was doing work.
And yes, I own
that shirt
. Why don't you? Do you not also require pecuniary recompense?
Focus: Gameplay or Narrative
Luke Bergeron (Gamasutra Blogs Featured Post) notes that
DLC clearly separates core mechanics
from story and other game elements which can be added on later. While the difference may not be the hardest to spot for many, Luke's point is that story's ability to be extended or modified later via DLC (while new mechanics via DLC often seem more like finishing an incomplete product) ups the contrast on the spectrum.
Sumantra Lahiri (Gamasutra Blogs Featured Post) wonders if there are
"B-Status" games to match "B-movies
." Sumantra notes that this
isn't a new thought
but instead of coming to the same answer of "probably not," offers
No More Heroes
as a contender for the title. Meanwhile, Tom Chick (Fidgit) calls out
Peter Suderman
(The American Scene) for claiming that derivative stories in games have helped games supplant film as the dominant "B" medium. Tom
half-agrees
that game stories are often fit for bad popcorn flicks, but also notes that there are games more comperable to blockbusters, Oscar-winners and art-house films. Speaking of that other, award-winning end of the spectrum, Keith Stuart (The Guardian's Games Blog) looks at
the purpose of videogame awards
--what awards intend to reward and what they reward in reality. It's all another layer of dynamics analysis to me, but I suppose most things are.
Uncharted 2
I suppose all this talk of games as film leads pretty naturally into all the talk about the cinematic nature of
Uncharted 2
.
Erik Rapson (Only The Games)
and
Daniel Bullard-Bates (Press Pause To Reflect)
both go on about the film-like nature of the new release. That streamlined (
i.e.
, railed, non-branching) plot structure borrowed from movies is part of the focus when Mitch Krpata (Insult Swordfighting) talks about how he believes that the game's success is due to its "
minimalism
" in many facets. Justin Keverne (Groping The Elephant) puts it plainly that it's
not a game about choice
. Daniel Purvis (Graffiti Gamer) may not make the connection aloud, but appreciates
Uncharted 2
's
slow instruction and repetition
of mechanics. It is, after all, a console title, and not the sort of old PC game that required a keyboard overlay to explain the seemingly countless possible inputs.
Characters
It's
already
been
noted
that Nathan Drake is a bit of a confusing character, what with the mismatch of everyman, power dynamics and mile-high body count. But if you're looking to list poor character design, games won't make it difficult.
Lesbian Gamers looks at Cpt. Dare in
Halo 3: ODST
and sees a
weak, token sex symbol
. (via
Critical Distance
) This is an interesting issue, because
ODST
puts Dare in a position of power (captain, which presumably means she'd command an entire company, were she not in command of a special forces team). It's odd that a war drama's story would have such so little respect (or so much disrespect) evinced toward the commanding officer, except where the weakness of the commander was a central plot focus.
"Vagary" (Brouhaha Abounding) sees a catch-22 for designers that don't choose to white-wash their characters. Namely, Vagary points to complaints about characters for being
racist stereotypes or "too white,"
leaving character designers the tricky business of designing a character that isn't some simplified extreme. I know that's a difficult task, but I suppose that's why there are both paychecks and an application process attached to the job.
Not all character design is irredeemable, though. G. Christopher Williams (PopMatters' "Moving Pixels" column) looks at
race in Saints Row
, which doesn't pigeon-hole the player-character into a gender or race and does a fairly good job of at least getting beyond the uncanny "universe of white men" phenomenon--although the games aren't shy about potentially offensive stereotypes. One of the nice things I find about games with an individual protagonist is that the player has a fair amount of say in creating nuanced and worthwhile internal monologues and motivations for that character (and then hope that the game won't try to force different understandings on you). This brings to mind Lewis Denby's (Game Set Watch's "Magic Resolution" column) reflections on "
Alice and Kev
," as the journal of Alice and Kev was a story constructed from the broad, gestural sketch of emotion and narrative provided by
Sims 3
.
Storytelling
These positive examples also indicate that there's more to a character than visuals and a brief background. A character isn't really much of anything without a story to act within. There's more to a story than a plot, though, as well. The art of the story, it's been said, is in the telling. And games, given their interactive interfaces, are unique in their methods for working with a player to spin and tell a story. Some of the stuff going on in this area lately is, frankly, "neato."
Scott Juster (Experience Points) continues looking at
haptic interfaces
as means of drawing the player further into the story through appealing to more senses. L.B. Jeffries (PopMatters' "Moving Pixels" column) peels back a bit of the
passive, perhaps tacit storytelling
of
Spider: The Secret Of Bryce Manor
. David Kidd (Trembling Hand) notices how
Fatale
's
interface changes with the player's character
.
To provide some potentially brighter examples of storytelling's interaction with players, Charles J. Pratt (Game Design Advance) looks at the structure of Simon Ferrari's new
End Of Life
, and Emily Short (Game Set Watch's "Homer In Silicon" column) digs in to
The Path
.
Kyle Orland (Crispy Gamer)
opposes locked content
--including story content--saying, "Games aren't about achieving goals, they're about having fun." I'm not sure I can agree that either of those statements are categorically and true for all games, but I think that unlockable content as a reward targets a small percentage of gamers while alienating the rest. That is, of course, it unlockable content isn't just a relic of old game design or untrusting (perhaps dictatorial) storytellers.
But while we're still roughly on the topic of cooperative and emergent story elements, I note that, in a Gamasutra Feature, Jesse Harlin looks at innovations in
dynamic sound design
that move away from sounds created in response to button-pushes.
Nick Dinicola (PopMatter's "Moving Pixels" column) notes that
torture in games
is rare, but generally set such that the player-character is the victim or a bystander, and not the aggressor. Nick believes this is because the mechanics of torture are uninteresting, but I'm pretty sure that's not the word I'd use.
Daniel Boutros (Gamasutra Expert Blogger) recounts, in two parts,
his objections
to
fighting games
, for story and other reasons.
Andrew Vanden Bossche (Game Set Watch's "Design Diversions" column)
compares health systems and pacing
in
Half Life 2
and
Ninja Gaiden Sigma 2
.
Mechanics, Dynamix? Gameplay
(Sorry, I really enjoyed
Betrayal At Krondor
.) Ok. It's about time to stop trying to force these items into the "story" bin.
Michael Walbridge (Game Set Watch's "Game Anthropologist" column) investigates the
differences between player cultures
in
Heroes Of Newerth
and
L: Of Legends
.
Working off the previous week's assertion that gameplay is a dialectic process, Taekwan Kim (Gamasutra Expert Blogger) moves on to give a
Jungian analysis of gameplay
. As part of this analysis, Taekwan also forms a Jungian value to gameplay, in that gameplay's activation of the archetypes aids or leads to individuation and self-understanding beyond the confines of the ego. I suppose the same could be said about most role-play, but it's still some solid thought.
Denis Farr (Vorpal Bunny Ranch) smartly susses out a
political reading
of
De Blob
, looking at the dictatorial nature of the enemy and the protagonist's bringing of color and functionality. (Side question: Can we still use words like "text" and "reading" when talking about games, as we use them in literary discussion?)
Enrique Dryer (Gamasutra Blogs Featured Post) lays out some
gameplay conventions
.
News & Upcoming Events
Digital Humanities 2010
(King's College, London) on October 31
Richard Rouse III will speak on "
Cinematic Games
" on Thursday at MIT.
Alexander Gambuto-Burke (EuroGamer)
concludes Natural Born Killer
, a game journal of mass murder in
Fallout 3
.
Jim Rossignol's
This Gaming Life
is now available
in paperback
in the US.
Jesper Juul
points out
that the DiGRA 2009 proceedings are
now online
.
PAX East
tickets have gone on sale. (26-28 March, 2010)
---
As always, feel free to contact me (here via note or comment, or @erik_a_hanson on Twitter) if you would like to point out something you think I missed, or if you'd like me to check out a site to add to my weekly review. You can also find me in Google's vast virtual empire as Erik Alan Hanson. And be sure to check the VGHVI events section, both as a reference and to add any events you think are worth including.